A luxury, ethically produced, children's brand designed and made in the uk.
Hi and welcome to Eddie & Bee! We are small family run ethically produced UK brand named after my two children, and run by me, St Martins trained Jo Horder. We make luxury clothing for children aged 0- 6 years. All our clothing is made from Organic Cotton Jersey featuring unique prints using low impact dyes and is made here in the uk.
Have a look at our money-saving Baby Bundles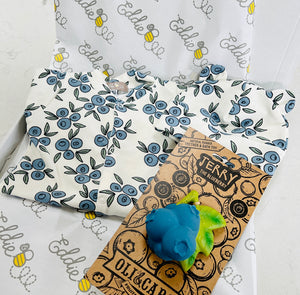 Create your own Baby Gift Set Bundle
Know someone who is expecting?
Now you can get them the perfect new baby gift set. 
Each set includes:
The Sleep suit of your choice and
choice of Hat or Bib
AND..
Your choice of Natural Rubber teething toy!
All will be wrapped in our tissue paper and popped in a white postal box.
You save £4 on the items buy buying as a gift set x
Create Gift Set
5 A DAY Sleep Suit Bundle
Pick five of your favourite fruit or veg sleep suit and save £25!
Now you can buy 5 of our fruit and veg sleep suits for the price of 4!
You can choose from any of these prints and any mixture of sizes to create a perfect bespoke bundle that will see a baby through until it's first birthday.
This is the perfect gift for a new baby or for your own baby so you can be super organised for their arrival.
PICK YOUR 5 A DAY HERE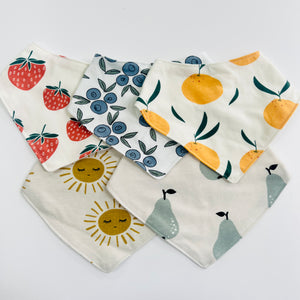 Dribble Bib Bundle
Create the perfect selection of organic cotton dribble bibs. You can pick five for £30 which is a huge saving of £20! These make the perfect gift for a new or teething baby. They will arrive wrapped in tissue and in one of our white postal boxes.
Trust me you won't believe how many of these a baby needs!
SHOP Bib Bundle
Hear what my customers have to say 💕💕